Live Office from SAP Business Objects integrates business intelligence functionality from the Business Objects suite within the commonly-used Microsoft Office environment. Subsequently Live Office enables users are able to embed refreshable information within documents, spreadsheets, and presentations and share them across their organization. Live Office provides users with real-time data that is verifiable and easily refreshed. As Live Office is built directly into Microsoft Office applications, needed information is available at the user's finger tips and is available in a familiar, easy to use format. In a nutshell, Live Office empowers business users to easily access corporate data from within Microsoft Office Excel, Word, Outlook, and PowerPoint without depending on expertise from the information technology department.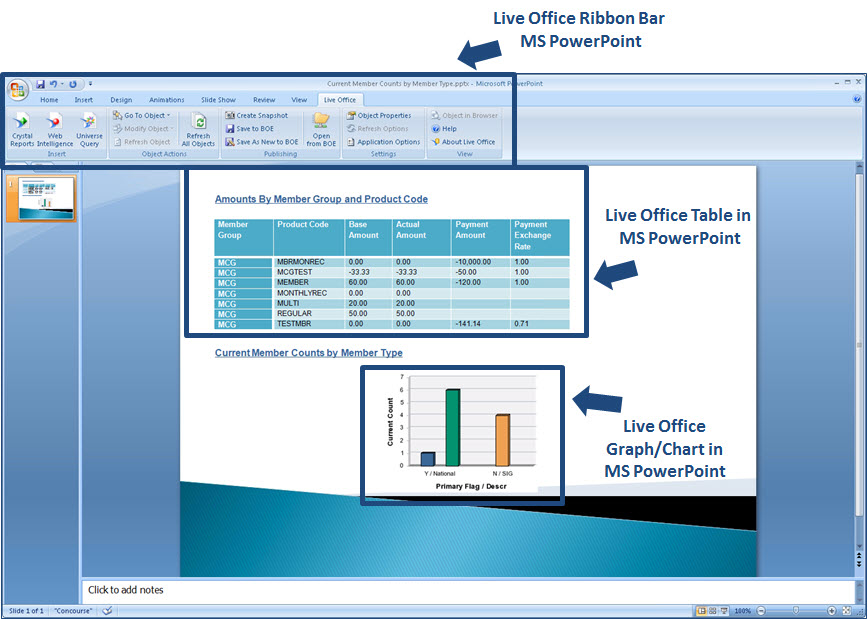 Benefits of Business Objects Live Office
•  Access business intelligence (BI) content directly within Microsoft Office.
•  Embed business intelligence directly in your e-mail messages using Microsoft Outlook.
•  Format and perform calculations using familiar features of Excel, PowerPoint, and Word.
•  Increase business user autonomy by exposing corporate data in Microsoft Office documents, spreadsheets, and presentations rather than web applications.
•  Improve timelines of decisions by enabling simpler information consumption.
•  Become less dependent on information technology personnel for generation of reports.