At the Sapphire conference in May, 2010, SAP announced the release of its new data warehouse appliance called HANA or High-Performance Analytic Appliance. SAP HANA is a combination of hardware, storage, operating system, management software, and in-memory data query engine that is characterized by data being held in RAM rather than being read from disks or flash storage. Additionally, HANA has been built to split up queries to run in parallel on multiple processors—a fundamentally different architecture from SAP's existing applications.  This in-memory and parallel processing architecture of HANA allows for extremely fast performance of queries and analytics on very large amounts of data.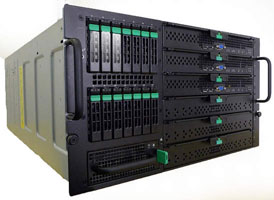 The SAP HANA solution has been introduced on Hewlett Packard x86 servers (HP ProLiant DL580 G7 and DL980 G7 servers) and is built upon Intel's multi-core servers. Moreover, a single server blade can contain up to 2TB of main memory (4TB coming soon) and up to 64 processor cores.  With this total solution, SAP claims that they beat the current performance benchmark by factor of 20, on hardware that was several dozens of times cheaper for a 200X price performance improvement. SAP also claims that HANA either reduces or out-right eliminates the need for the development and deployments of complex and expensive datamarts.
SAP intends HANA systems to be well-integrated with its own enterprise resource planning (ERP) systems, allowing for transactional data in SAP ERP systems to be analyzed in real time.  However, HANA is not dependent solely on SAP ERP systems as a data source.  Moreover,  HANA is data source "agnostic"  which means most common data sources and database can be integrated with it.
According to an SAP document, the HANA platform includes a modeling environment that is simple enough for business users to work with.  Additional, HANA supports client interfaces currently include Microsoft Excel and SAP's Business Objects business intelligence software.
References: SAP's Transformation: A Work-In-Progress – Part One (ChainLink Research),  SAP Launches HANA for In-memory Analytics (PC World)