BusinessObjects Explorer is a relatively new component of the SAP BusinessObjects product suite that provides a more advanced and intuitive data exploration interface for business intelligence end-users, both casual and power users.  Explorer encompasses the simplicity and speed of web-search technologies with the trust and analytical power of conventional business intelligence technologies to provide deep understanding and immediate answers to both simple and sophisticated business questions.  BusinessObjects Explorer provides end-users with the capability of quickly exploring and visualizing large data sets.  Features includes searching and sorting, interactive drilldowns, and various types of dynamic graphical visualizations while navigating through corporate data.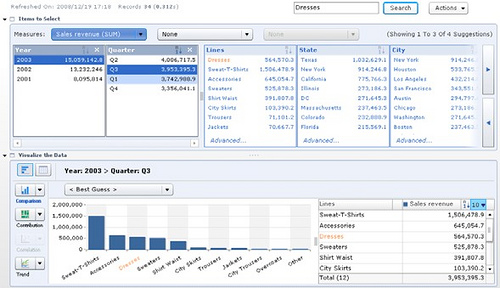 Features and Functions of BusinessObjects Explorer
Robust Search Capability

• Search Experience Similar to Google or Yahoo – Users enter keywords to find instant business information with return results ranked by relevance.

• Search Concurrent Data Sources – Reach data across an entire SAP BusinessObjects landscape and any data source that it accesses.

• Self-Service Access – Pervasive searches with queries directly to data without the need for a predefined report or query.
Trust and Power of a Conventional Business Intelligence System

• Guided Data Exploration – The most relevant keyword search results are presented first, allowing end-users to access additional contextually relevant details as they explore.

• Intuitive Visualization – The system automatically generates charts and grapchs that best represents the information being queries – no cryptic data model or data knowledge is required by any end-user.

• Team Collaboration – Share information easily via e-mail, embedded URL, and other popular communication formats.
Ease of Deployment to End-Users

• Leverages Existing BusinessObjects Infrastructure – Reuses existing universes, security, and administration services already deployed within the BusinessObjects platform.

• Limited End-User Training Required – Intuitive end-user interface and functionality allows first-time users to get started with next-to-no formal training.

• Rapid Implementation Schedule – Add search, exploration, and visualization functionality to an existing BusinessObjects deployment in as little as a few days.