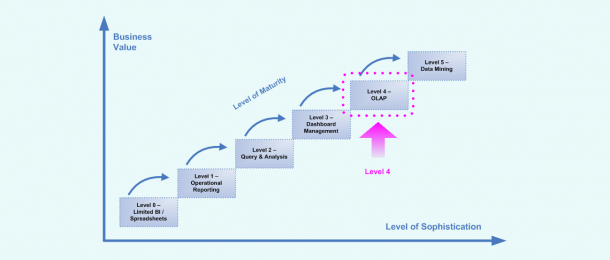 Level 4 – On-line Analytical Analysis (OLAP) Systems
On-line analytical processing (OLAP) is a technique for rapidly visualizing and analyzing business metrics across different points of view. OLAP is a term used to generically refer to software and applications that provide users with the ability to store and access data in OLAP cubes (also called a 'multidimensional cube' or a hypercube) with this "cube" being made up of numeric facts, called measures, and text values, called dimensions.

Moreover, OLAP systems provide users with insight into past performance and they enable a deep understanding of the reasons behind why previous events have occurred. Fundamentally, OLAP systems allow users to rapidly view and analyze data from many perspectives or dimensions and allows the users to conduct advanced "What-If" analysis.
Characteristics of OLAP Applications
•  Retrieves data from OLAP cubes rather than database tables

•  Enables advanced insight into past performance

•  Provides accurate and precise "What-If" analysis

•  Queries perform extremely rapidly

•  Primarily used by business areas concerned with financial and resource planning