The

Oracle Business Intelligence (BI) Platform

is a set of functions and tools that incorporate a number of advanced business intelligence products.  In addition to providing a broad set of functions and tools, the Oracle BI Platform is built upon a proven, modern web services-oriented architecture that provides the foundation of the construction of complete business intelligence solutions.  In addition, the platform delivers a full range of capabilities related to business intelligence capabilities including…

• Dashboards
• Ad-hoc queries
• Alerts and notifications
• Operational reports
• Predictive intelligence
• Disconnected analytics
• Microsoft Office integration
Fundamentally, the Oracle BI Platform comes with the tools and functions for developing sophisticated custom business intelligence environments like the one pictured here …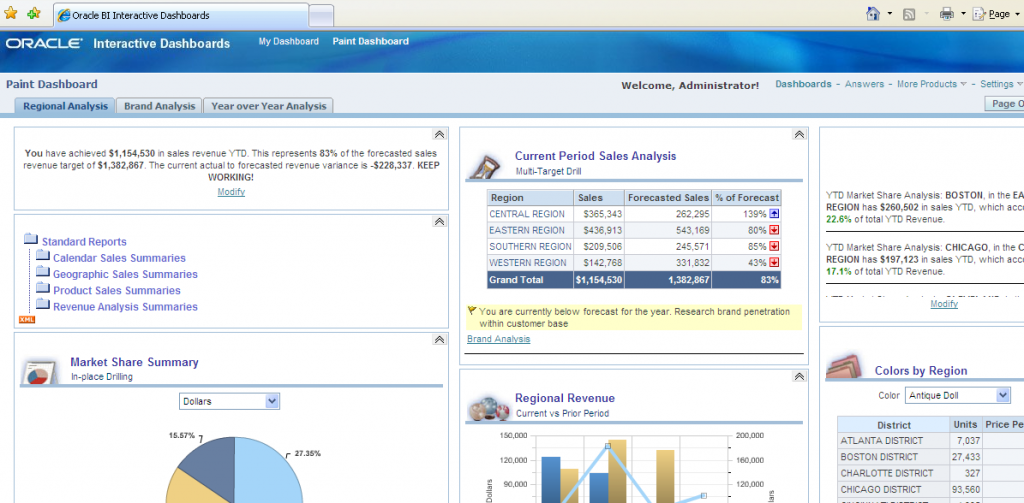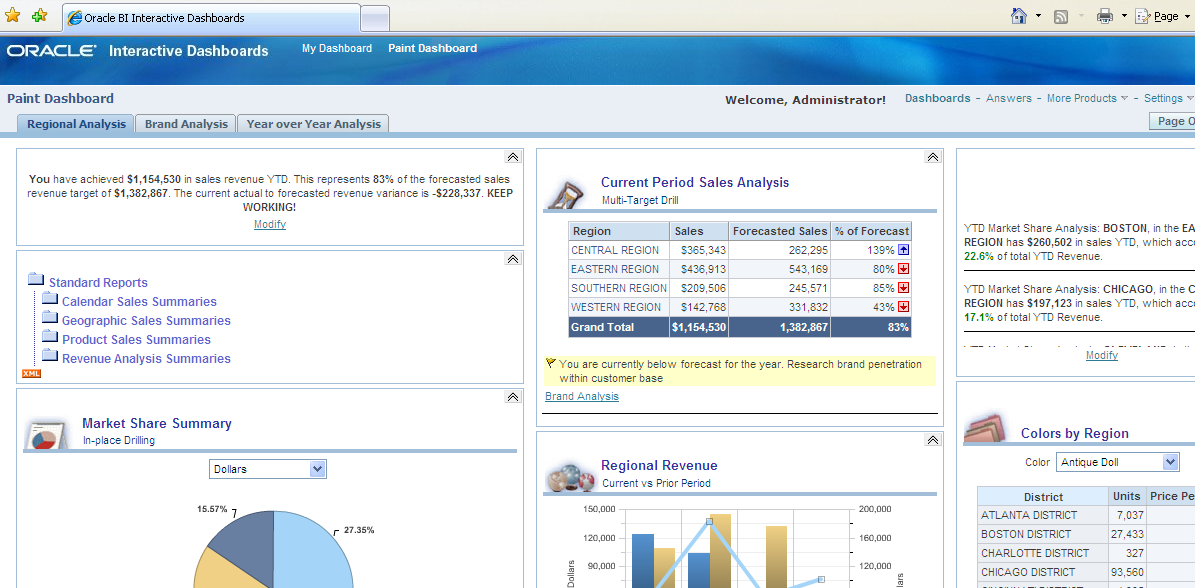 At its core, the Oracle BI Platform is an innovative next-generation business intelligence environment that offers the software tools for building enterprise BI solutions from data spanning both Oracle and non-Oracle data sources and applications. The Oracle BI Platform has been meticulously designed to allow for pervasive use within an organization.  This sophisticated environment includes a full range of easy-to-use and intuitive end-user tools such as interactive dashboards, advanced reporting and publishing, full ad-hoc analysis over the web, proactive detection and alerts, mobile analytics, Microsoft Office integration, web services and business process integration.
The Oracle BI platform provides transparent and seamless access to numerous heterogeneous data sources.  This highly developed platform also allows for development of custom business intelligence implementations that access data from traditional relational databases, OLTP & ODS systems, data warehouses and data marts, flat files, and web services. Further in 2008, Oracle released the Oracle BI Enterprise Edition Plus Platform, which provides direct connections to Hyperion data sources including Essbase and its related financial performance management applications.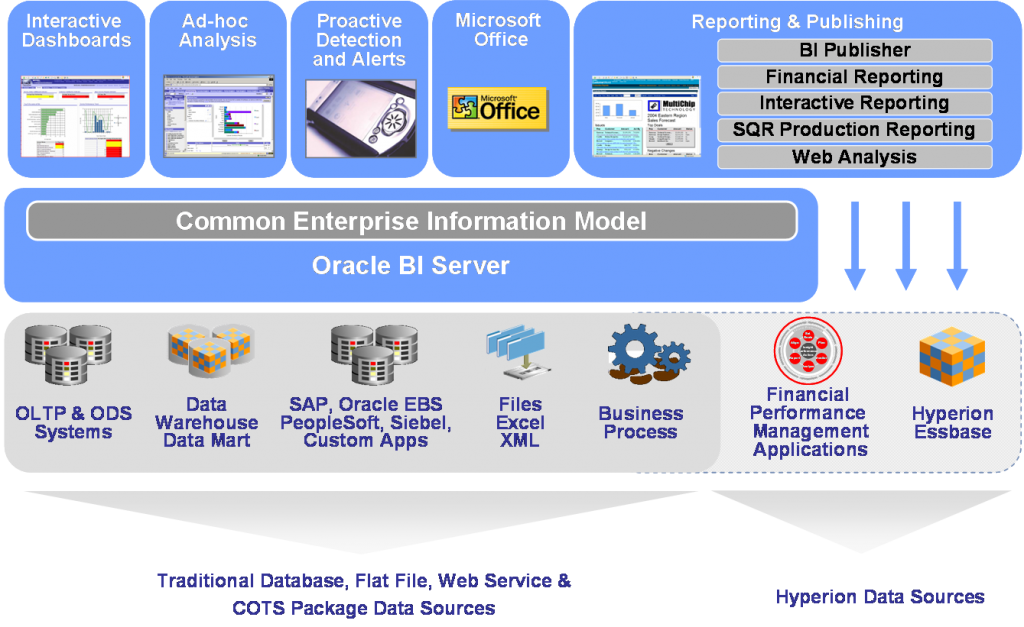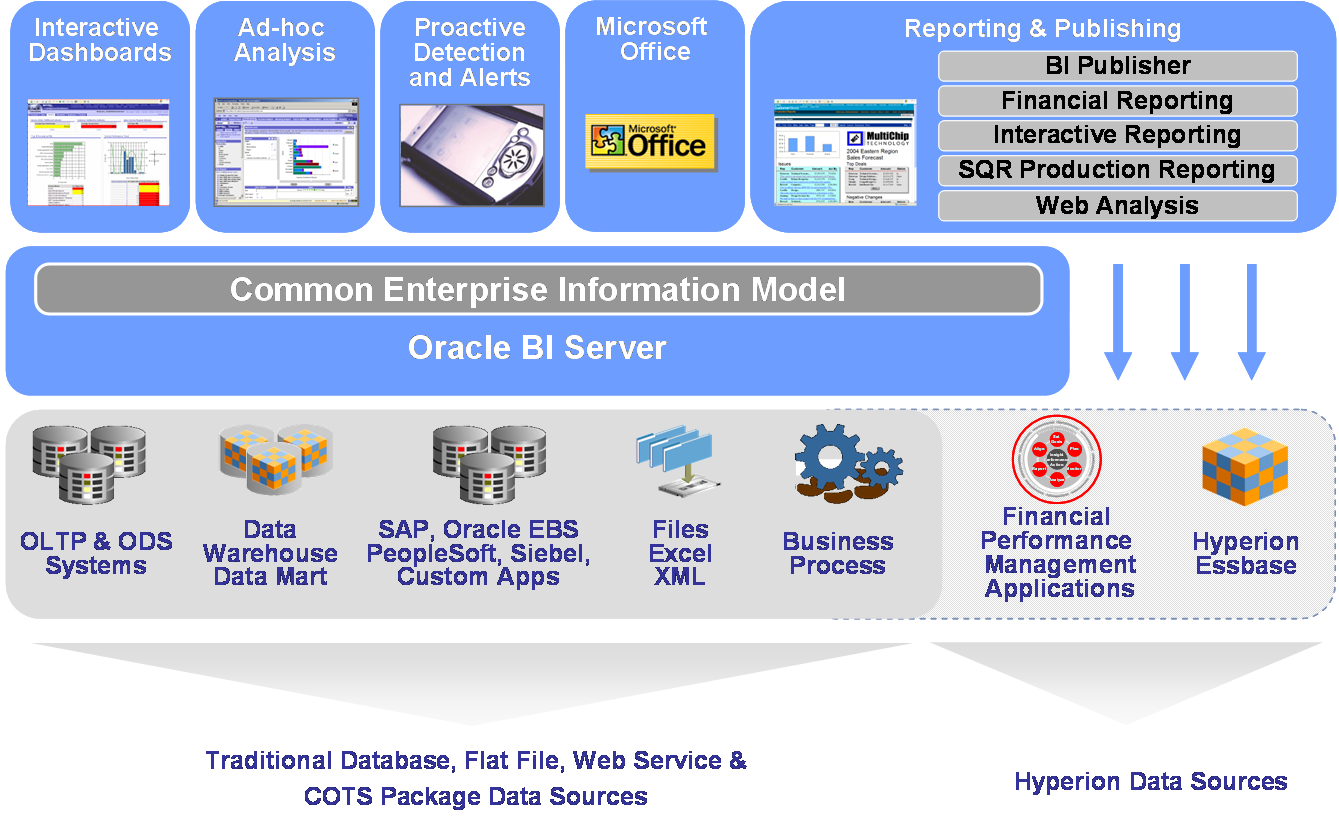 The Oracle BI Platform has been developed over several years and includes the most advanced features from the former NQuire and Siebel Analytics products recently acquired by Oracle Corporation.