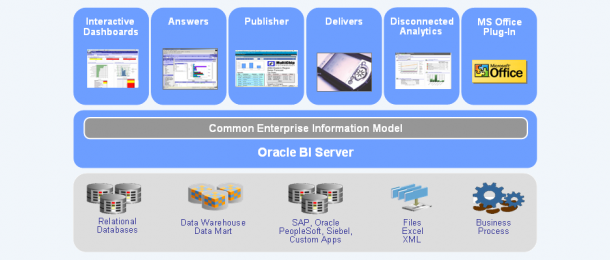 Oracle Business Intelligence Enterprise Edition (OBIEE)

is a

comprehensive business intelligence platform produced by Oracle, Inc.

that delivers a full range of analytic and reporting capabilities. Additionally OBIEE incorporates a suite of advanced business intelligence tools that are built upon a unified architecture.  The components delivered within the OBIEE suite include:

•  Oracle Interactive Dashboards
•  Oracle Answers
•  Oracle Publisher
•  Oracle Delivers
•  Oracle Disconnected Analytics
•  Oracle BI Server
Component of OBIEE – Oracle Interactive Dashboards
Oracle Interactive Dashboards provides

versatile, web-based dashboards

that displays information in a highly-intuitive format to help end-users' decision making.  The

user interface is completely graphical

while access to the information is interactive and based on the individual's role and identity. Further, the user has full capability for modifying and interacting with data utilizing the following controls …

•  Live reports
•  Charts
•  Tables
•  Prompts
•  Pivot tables
Additionally, the Oracle Interactive Dashboards provides the user with full capability of drilling, navigating, modifying, and interacting with data sets. This concept is commonly referred to as "guided analysis".  Oracle Interactive Dashboards can retrieve and aggregate content from a wide variety of sources, including the traditional databases, data warehouses and data marts, shared file servers, and document repositories.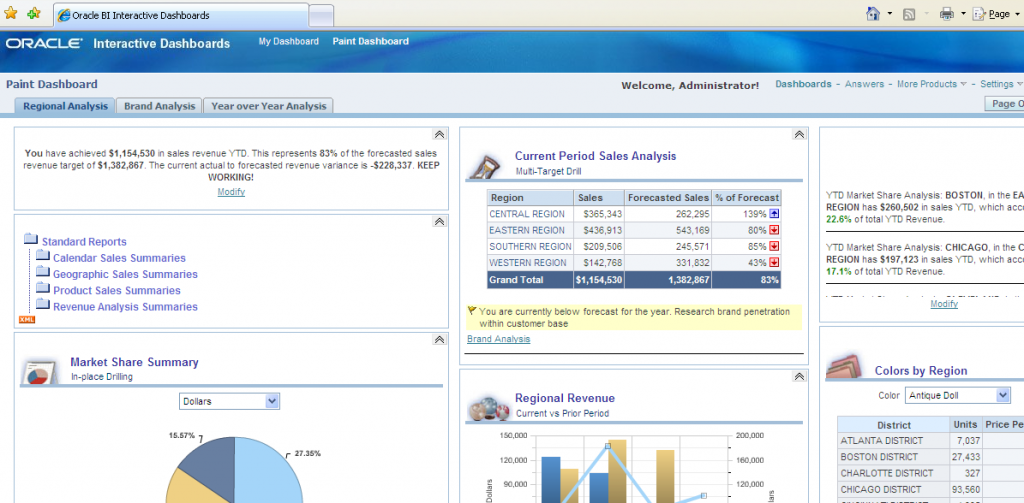 Oracle Interactive Dashboards provide personalized views of corporate and external information. A dashboard consists of one or more pages, which appear as tabs across the top of the dashboard. Pages can display anything that you can access or open with your Web browser, such as saved queries and request, alerts from Oracle BI Delivers, images, charts, tables, text, and links to web sites and documents.
Component of OBIEE – Oracle Answers
Oracle Answers provides 

ad-hoc query and analysis capabilities

to end-users.  Users can processes data from multiple data sources in a pure web environment. In addition, users are isolated from underlying data structures as they view and work with a logical view of the information.  This logical view of the information is presented to the user in business terms.  The interface of Oracle Answers is highly-intuitive and enables end-users to create:

•  Queries
•  Data tables
•  Interactive charts and graphs
•  Pivot tables
•  Reports
•  Prompts
Oracle Answers provides a point-and-click interface that allows end-user to develop robust ad-hoc queries and reports. Users simply drag-n-drop fields to create layouts with reports, queries, and charts on the right-hand side of the application.  Data fields are subsequently on listed on the left-hand side.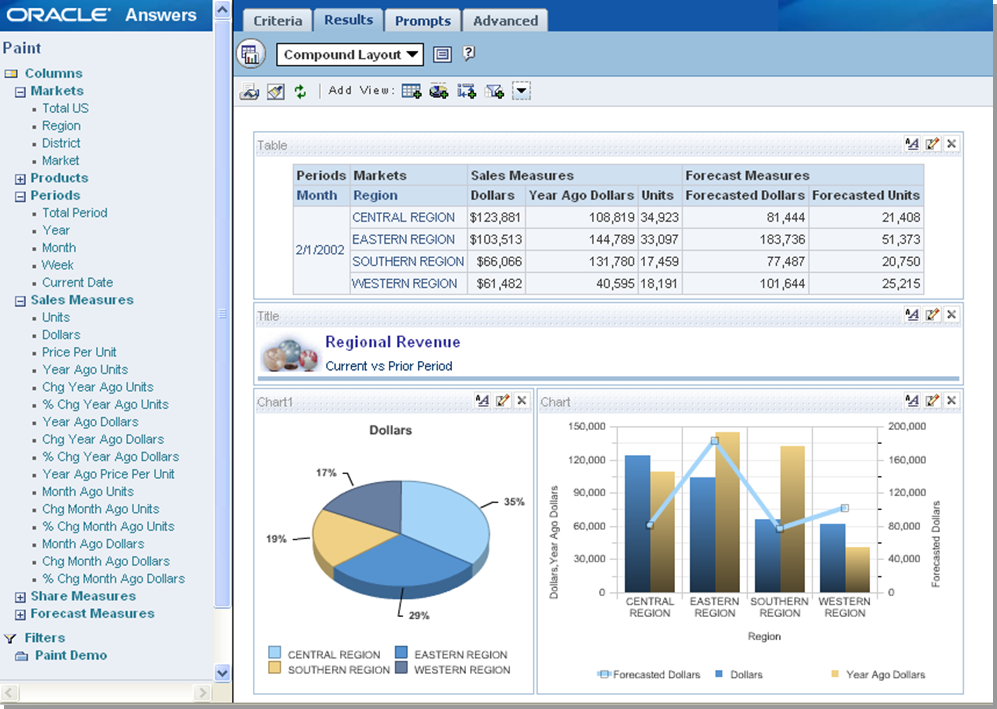 In addition, Oracle Answers is tightly integrated Oracle Interactive Dashboards. Reports, prompts, tables, charts, & graphs created in Oracle Answers can be easily saved, shared, modified, formatted, or integrated within dashboards of the Oracle Interactive Dashboards application.
Component of OBIEE – Oracle Publisher
Oracle Publisher (formerly XML Publisher) is an enterprise-level operational reporting tool that separates the data from the presentation. This means that developers from the information technology department can define the data sources, and business users can specify the report layout. The same data source can be used by multiple report templates.  By separating the task of finding the data from the task of deciding how to present them, the business user can define a report template with exactly the format he or she wishes.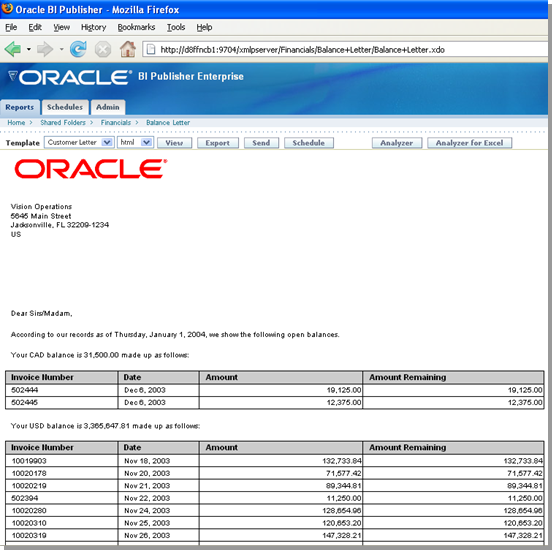 Rather then having an independent report design environment, Oracle Publisher leverages both MS Word and Adobe Acrobat as a user interface for the creation of richly-formatted operational reports.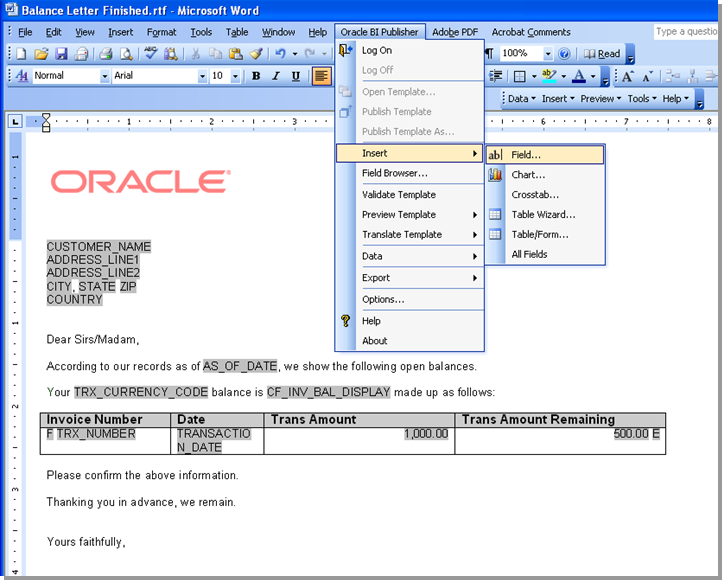 Component of OBIEE – Oracle Delivers
Oracle Delivers provides

activity monitoring and alerting

that can reach users via multiple channels:

•  Email
•  Dashboards
•  Mobile devices
Oracle Delivers includes a web-based self-service alert creation and subscription portal, and a workflow engine that allows for initiation and passing of contextual information to other alerts.  Furthermore, it can dynamically determine recipients and personalized content to reach the right users at the right time with the right information.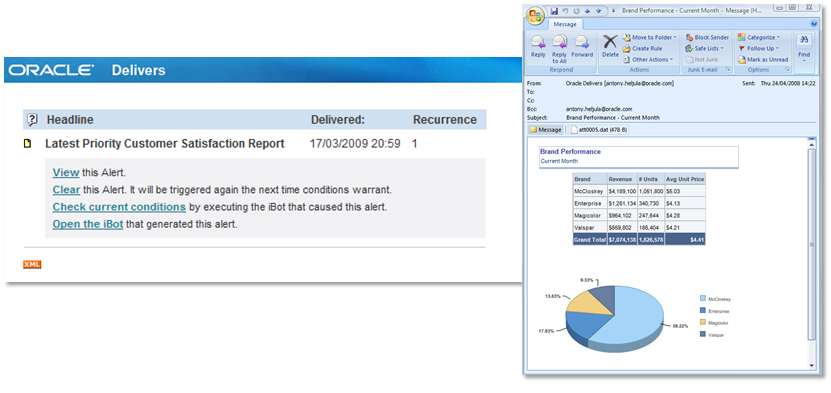 In a nutshell, Oracle Delivers notifies business users with relevant reports and data when events occur. Notifications can be sent and received utilizing most common communication channels.
Component of OBIEE – Oracle Disconnected Analytics
Oracle Disconnected Analytics provides all of the features of Oracle Interactive Dashboards and Oracle Answers (i.e. dashboards and ad hoc analysis) while off-line and disconnected from a corporate network. Moreover, the same user interface is utilized whether the user is working in a connected or disconnected mode. Oracle Disconnected Analytics leverages advanced data synchronization capabilities and allows for full and incremental synchronization of data with enterprise data sources. Data can be personalized for each user, maintaining all role-based security and visibility, and is compressed during synchronization, resulting in minimal data set size and fast sync times.
Features of Oracle Disconnected Analytics:

• Off-line and mobile business intelligence
• Full capabilities of Oracle Dashboards and Oracle Answers
• Intelligent synchronization of data
Component of OBIEE – Oracle BI Server
The foundation of the OBIEE platform is a  server that supports a full complement of access, analysis, and information delivery options, all in one fully integrated environment.  The Oracle BI server provides a common engine that retrieves date from its source, converts the data to a common format, and presents intelligence to all of the OBIEE applications that consume information, including Interactive Dashboards, Answers, Publisher, and Delivers.  All of these applications require rich access to broad sets of data across the enterprise, and they all require a sophisticated calculation and aggregation infrastructure that the platform provides to deliver value.
Capabilities of Oracle BI Server:

• Powerful middleware engine
• Presents intelligence back to other OBIEE components
• Integrates disparate data sources
• Sources data from multiple data sources