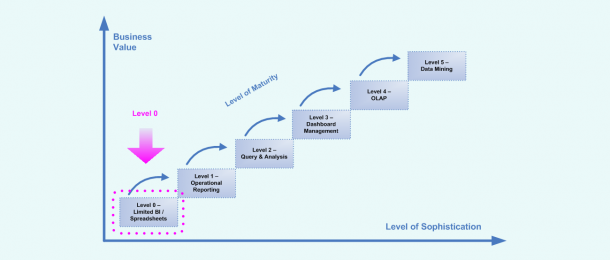 Overview of Spreadsheets
A spreadsheet is a computer application that simulates a paper, accounting worksheet. It displays multiple cells that together make up a grid consisting of rows and columns, each cell containing alphanumeric text, numeric values or formulas.  Because spreadsheets are easy to work with and are widely available, many businesses rely on them to take the place of a more sophisticated business intelligence tool.  Instead of providing a consistent view of the organizational data, spreadsheets have decentralized views of limited amounts of data. In addition, spreadsheets are typically developed by an individual user, consist of little or no organizational standards, and encompass limited system analysis and quality assurance before being used as an official reporting source.
It is typically up to the spreadsheet developer to decide what metrics are important, what data needs to be included, how the data is formatted, and what level of aggregation is necessary.  Spreadsheets become isolated and inconsistent data silos, and are difficult for analysts to extract, transform and load data into a central database to be interpreted at an enterprise level.
Characteristics of Spreadsheets
•  Widely used personal desktop application / available on most user workstations

•  Reporting of data conducted in rows and columns

•  High degree of individual use and high degree of inaccuracy and variability

•  Limited security and limited collaboration capabilities built into software environments