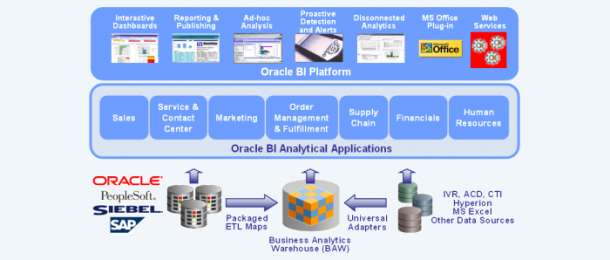 The business intelligence market is rapidly maturing and Oracle is leading the way with its delivery of Oracle Business Intelligence.  Initially Oracle just provided the Oracle BI Platform which provided businesses with the tools for developing custom business intelligence solutions. However, Oracle is now providing an option to its customers with Oracle BI Analytical Applications, a complete business intelligence and data warehousing solution that is built upon their own robust and feature-rich platform. Now businesses have the option of either custom building a BI solution from scratch or configuring a pre-packaged BI solution.
Oracle BI Platform
The Oracle Business Intelligence Platform is a set of functions and tools that incorporate a number of advanced business intelligence products.  In addition to providing a broad set of functions and tools, the Oracle BI Platform is built upon a proven, modern web services-oriented architecture that provides the foundation of the construction of complete business intelligence solutions.  In addition, the platform delivers a full range of capabilities related to business intelligence capabilities including…

•  Dashboards
•  Ad-hoc queries
•  Alerts and notifications
•  Operational reports
•  Predictive intelligence
•  Disconnected analytics
•  Microsoft Office integration
Fundamentally, the Oracle BI Platform comes with the tools and functions for developing sophisticated custom business intelligence environments like the one pictured here …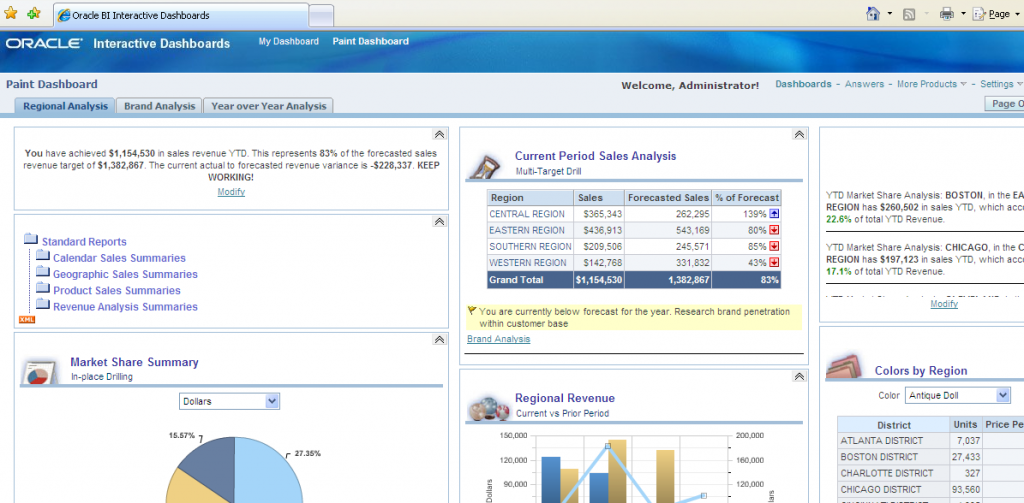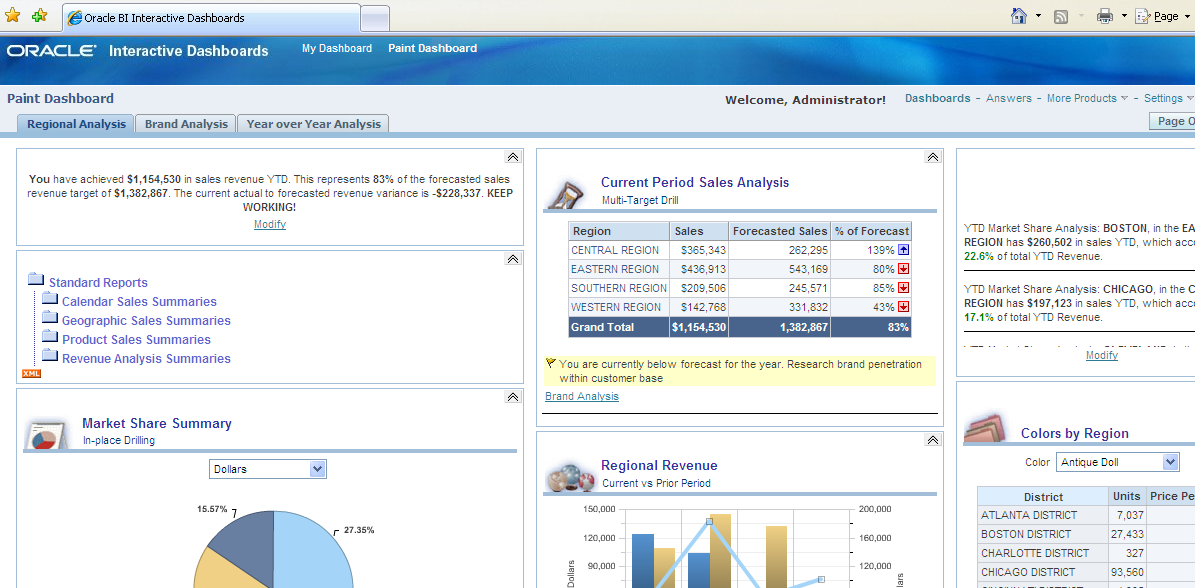 At its core, the Oracle BI Platform is an innovative next-generation business intelligence environment that offers the software tools for building enterprise BI solutions from data spanning both Oracle and non-Oracle data sources and applications. The Oracle BI Platform has been meticulously designed to allow for pervasive use within an organization.  This sophisticated environment includes a full range of easy-to-use and intuitive end-user tools such as interactive dashboards, advanced reporting and publishing, full ad-hoc analysis over the web, proactive detection and alerts, mobile analytics, Microsoft Office integration, web services and business process integration.
The Oracle BI platform provides transparent and seamless access to numerous heterogeneous data sources.  This highly developed platform also allows for development of custom business intelligence implementations that access data from traditional relational databases, OLTP & ODS systems, data warehouses and data marts, flat files, and web services. Further in 2008, Oracle released the Oracle BI Enterprise Edition Plus Platform, which provides direct connections to Hyperion data sources including Essbase and its related financial performance management applications.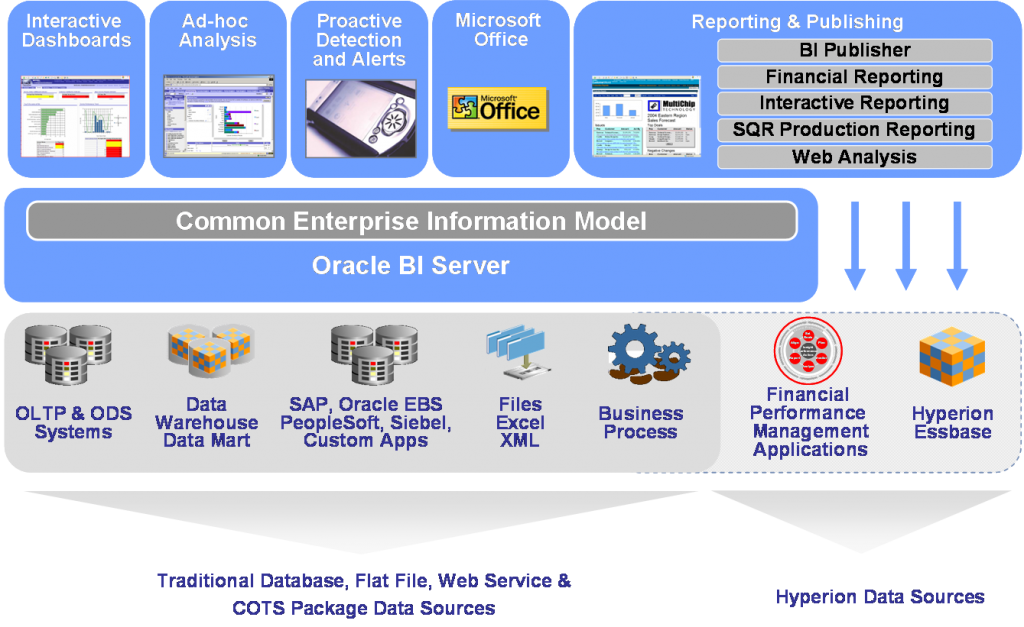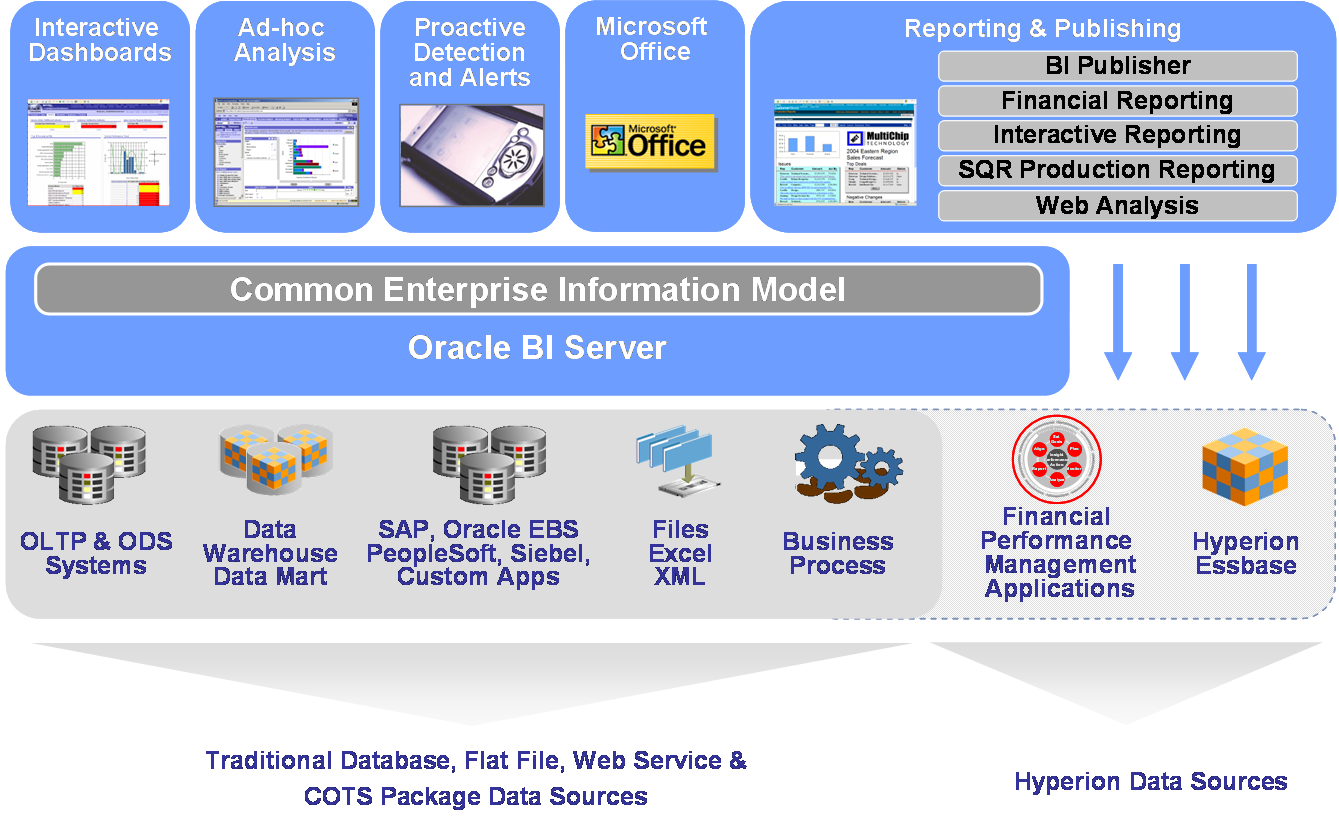 The Oracle BI Platform has been developed over several years and includes the most advanced features from the former NQuire and Siebel Analytics products recently acquired by Oracle Corporation.
Oracle BI Analytical Applications
Rather than just being a platform or development environment, Oracle Business Intelligence Analytical Applications are fully inclusive business intelligence solutions that incorporate all of the key metrics, workflows, and business processes for a particular business function.  Bundled within theses solutions are numerous

pre-built components

including:

•  Dashboards
•  Metrics
•  Reports
•  Drill-down paths
•  Dimensional models
•  Naming standards
•  Database objects
•  ETL routines
•  Metadata
•  Security

In addition, Oracle BI Analytical Applications contain universal adapters that allow for rapid integration and direct connections with leading commercial-off-the shelf (COTS) packages including SAP, Oracle E-Business Suite, PeopleSoft, and Siebel applications systems.
Oracle BI Analytical Applications come bundled with best practices and industry standards built-in. Additionally, they include all of the functionality required to conduct business intelligence for many common business functions including financials, human resources, sales, service, contact centers, marketing, supply chains, order management and fulfillment business areas.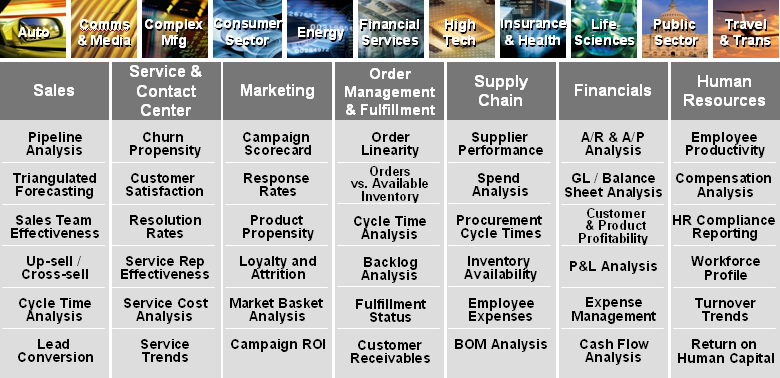 Fundamentally, Oracle BI Analytical Applications are built upon the Oracle BI Platform and provide complete end-to-end, prebuilt business intelligence solutions that deliver intuitive, role-based intelligence to all members of an organization including senior executives, mid-level managers, and front-line employees.  So rather than developing custom business intelligence solutions for each business area and function, the use of Oracle BI Analytical Applications allows an organization the ability to rapidly configure a ready-built solution utilizing the complete Oracle BI Platform.

Oracle BI Analytical Applications

come bundled with two main additional pre-built back-end repositories:
•  Business Analytics Warehouse
•  ETL (Extract-Transform-Load) Repository
The Business Analytics Warehouse (BAW) is a completely pre-built data warehouse that physically contains all of necessary dimension and fact table needed for the business intelligence applications. The BAW is fully-compliant with the dimensional modeling methodology developed by Ralph Kimball and supports many advanced techniques including slowly changing dimensions, conformed dimensions, aggregate tables, hierarchy tables, and surrogate keys.
The ETL repository includes all of the routines for extracting of data to a staging area, transforming the data into a common format, the loading of date into data warehouse tables, changed data capture, and seeding data for common dimensions. In addition, the powerful ETL repository consist of two main components, Informatica which is the ETL engine that contains the data integration routines, and the DAC (Data Warehouse Application Console) which is the "ETL orchestration tool" that controls application configuration, execution & recovery, and monitoring.
Differences Between Oracle BI Platform vs. Oracle BI Analytical Applications
A key way to understand the differences between the Oracle BI Platform and Oracle BI Analytical Applications is to identify that the platform contains the environment and tools for custom building business intelligence solutions, while the analytical applications contain complete, pre-built solutions that can be rapidly configured. Oracle BI Analytical Applications utilize all of the tools within the Oracle BI Platform as well as several additional tools, and all of the components of the Oracle BI Platform are bundled within Oracle BI Analytical Applications. Moreover, within the Analytical Applications, Oracle has leveraged its experience in providing industry-specific business solutions to deliver comprehensive and fully-inclusive business intelligence solutions for numerous common business functions.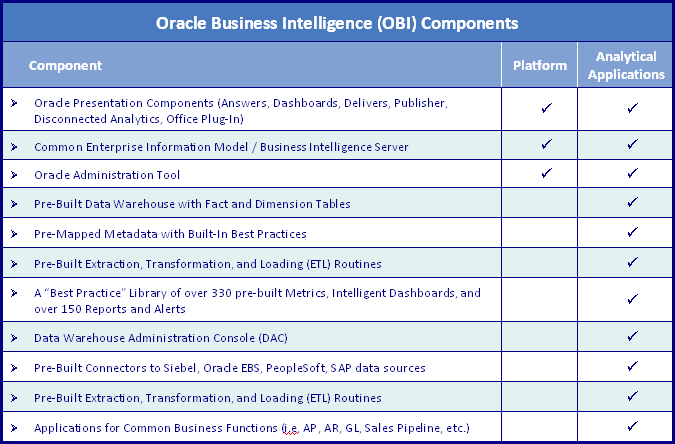 Another important concept in the differentiation of the Oracle BI Platform and Oracle BI Analytical Applications is the amount of content delivered in the metadata or middleware layer. In a nutshell, the metadata layer within Oracle BI creates a semantic model over an organization's entire data set, consists of the information that characterizes data, and describes how the organizational data should be presented by the user interface of the business intelligence environment.
The Oracle BI Platform is delivered without any pre-existing metadata as it only contains the tools for developing metadata.

However, Oracle BI Analytical Applications come delivered with a rich set of metadata elements at all three layers (physical, logical, and presentation) and come delivered with the mappings between the levels already being developed and configured as well as physical connections already being defined.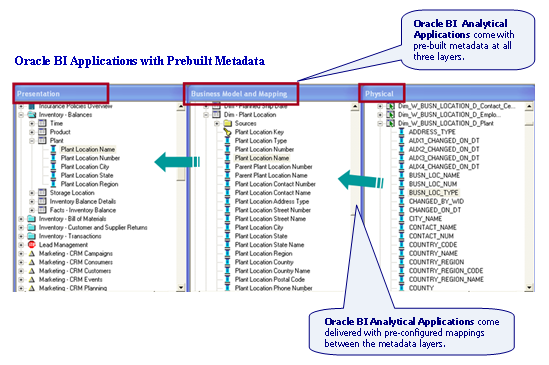 Conclusion
Oracle Business Intelligence (OBI) is a suite of technology and solutions that provide an integrated, feature-rich reporting and analytics environment that can be deployed at an enterprise level to organizations seeking to understand their data in more detail. Traditionally, Oracle provided a platform with all of the tools for organizations to custom build a solution. However recently Oracle has developed pre-built analytical applications that provide oganizations with complete business intelligence and data warehousing solutions. Now organizations have an option of how they want to deploy Oracle Business Intelligence to solve the analytical and reporting requirements. Businesses can now conduct either customization with the Oracle BI Platform or configuration with the Oracle BI Analytical Applications.