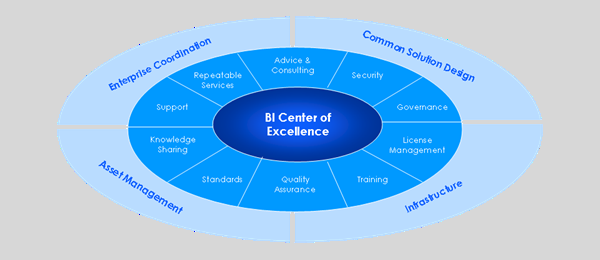 In order to ensure a predictable and repeatable usage of Business Intelligence (BI) services across organization X, and to maximize the value of licensing cost, organization X's information technology department has adopted the formation of a Business Intelligence Center of Excellence (BI COE). This BI COE performs at an enterprise level and serves as a cross-functional team with a permanent, formal organization structure. The team includes defined tasks, roles, responsibilities and processes for supporting and promoting the effective use of business intelligence across the organization.
In addition, organization X has chosen to standardize on an organization-wide reporting and decision supp

ort platform from SAP Business Objects to provide analysts and decision-makers across the enterprise with easy and flexible access to critical data. While Business Objects is being made available to the users through-out the enterprise, there is a need to establish and uphold best practices, guidelines, policies, standards and training to ensure the usability, sustainability and maintainability of the environment.
The BI COE is now responsible for the application administration and support of the newly acquired and implemented Business Objects environment. This includes support of the entire suite of tools from Business Objects (Web Intelligence, InfoView, Crystal Reports, and Xcelsius). Moreover, the BI COE ensures success of every Business Objects implementation that occurs within Amtrak by providing technical oversight, quality assurance, security planning, and post-production support. As the BI COE is ultimately responsible for the success of business intelligence within Amtrak, the BI COE ensures that the Business Objects environment optimally performs, is highly secure and stable, and ensures that all projects are implemented with quality and best practices. In addition to providing support for the business intelligence infrastructure, this technical team has also been chartered to work closely with the various project teams throughout the organization to implement and deploy high quality business intelligence solutions.
The business objectives of the BI COE are enabled by increasing support and service capabilities, by redesigning and implementing new design, implementation, service, and support processes. Moreover, the services provided by the BI COE projects span the whole project development life-cycle, from initiation, analysis, design, construction, deployment, and post-production support with the primary purpose of helping projects bring well-engineered solutions to the consumers of the product.
Fundamentally, the BI COE at organization X has three major responsibilities:
1. Application/security administration of Business Objects environment

2. Management and support of Business Objects application infrastructure

• Web Intelligence
• InfoView
• Crystal Reports
• Xcelsius Dashboards

3. Oversight, development, and implementation of enterprise business intelligence projects