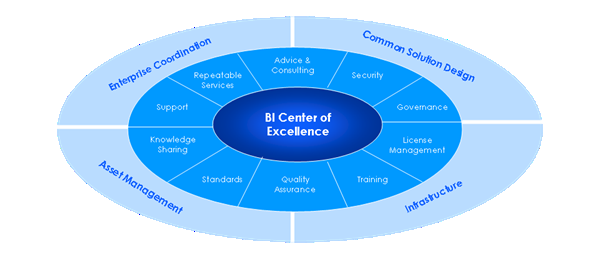 Business Intelligence Centers of Excellence (BI COE) enable the design, development, and implementation of strategic, enterprise, department, and tactical Business Intelligence solutions from one centrally managed team within a corporation or organization.
Fundamentally, the BI COE merges the traditional roles and responsibilities of program management offices, functional expertise of subject matter experts, and the technical expertise of  systems personnel. As a result, the BI COE allows organizations to leverage best practices and standards, conduct application administration, and provide enterprise wide management of technical and functional resources.
In practice, the BI COE allows for a single or set of business intelligence products to become an enterprise standard, and the BI COE group becomes the primary team for conducting implementations, management, and support of BI solutions across an organization.
The foundation a well-formed BI COE includes

four primary components

…

– Enterprise Coordination
– Common Solution Design
– Infrastructure
– Asset Management
While a number of

secondary components

can be incorporated into the primary components …

– Advice and Consulting
– Standards
– Support
– Knowledge Sharing
– Quality Assurance
– Security
– Governance
– License Management
– Training
– Repeatable Services