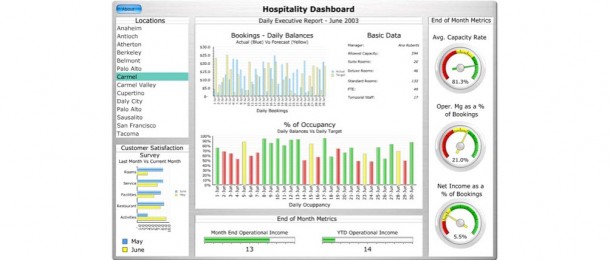 All members of an organization need information they can use to focus on accomplishing the same organizational goals.  But maintaining consistent views of operations through all lines and divisions of an organization can be a challenging task. To this end, organizations are relying on dashboards and scorecards to provide relevant metrics, indicators, alerts, and monitoring tools.  In addition, these dashboards and scorecards are utilized to effectively monitor and manage business activities, operations, and strategies.
…dashboards and scorecards are the key tools in a business performance management discipline that enables executives to communicate business strategies in a customized way to each employee and monitor the execution of those objectives to fine-tune the organization and keep it on track.

Wayne W. Eckerson,  Director of Research and Services,  TDWI
Dashboards
Unlike operational reports and ad-hoc reporting environments, a dashboard provides a fixed and rapid method to deliver relevant and timely information to key decision-makers within a highly-intuitive interface. Dashboards inform organizational decision-makers real-time the state of their organizational performance and significantly increase organizational performance.

Dashboards typically provide graphical interfaces that include either key performance indicators (KPIs) or business metrics that represent the key information about the organization

. Dashboards are typically easy-to-use, easily personalized, and can alert decision makers when business metrics approach and exceed accepted ranges and targets. Dashboards may also provide basic controls that can alter the view of the data and allow for business users to collaborate.
The graphical format of dashboards can vary, and business users have the option to pick the format that is most relevant to their data and customize to their specific needs. Formats of dashboards can include gauges, barometers, thermometers, charts, graphs, maps, trend lines, metric trees, and traffic lights.
The key value of dashboards is the ability to display actionable information in an intuitive format and conduct meaningful analysis of the data. Dashboards are typically used by managers and staff in lower levels of the organization, are updated in real-time or near real-time, and use charts and tables to symbolize events for the purpose of measuring performance.
Scorecards
A

scorecard

is a solution that allows organizations to manage their organizational performance by linking operations with strategy. The scorecard monitors the execution of strategic objectives at each level of the organization and ensures a consistent understanding at all levels of the organization's priorities and expectations.
Scorecards can be utilized at all levels of an organization including executives, managers and staff. They are usually updated in periodic snapshots, use graphical symbols and icons to present summaries of organizational performance, and chart overall progress over time for the organization.
Scorecards provide value to the organization by linking key performance indicators (KPIs) within tactical and operational levels in an organization to the overall strategy of the organization. In addition, the scorecard establishes accountability to appropriate individuals and enables visibility to up and down an organization from executive management to operational levels. The scorecard can be a powerful tool to allow for assignment of goals and objectives to all individuals and focuses accountability on the relevant individuals and business units.
Typically scorecards provide internal and industry benchmarks, goals, and targets that assist an individual's understanding of their own unique contribution to the organization. Often, the scorecard spans strategic, tactical, and operational aspects and decisions of the organization and supports the specific demands of varying levels of management.
Unlike dashboards that tend to monitor the performance of operational processes, scorecards focus on charting the progress of tactical and strategic goals. Further scorecards present results in a graphical format using symbols and icons to represent the status of key metrics, and tend to show data in a linear format.